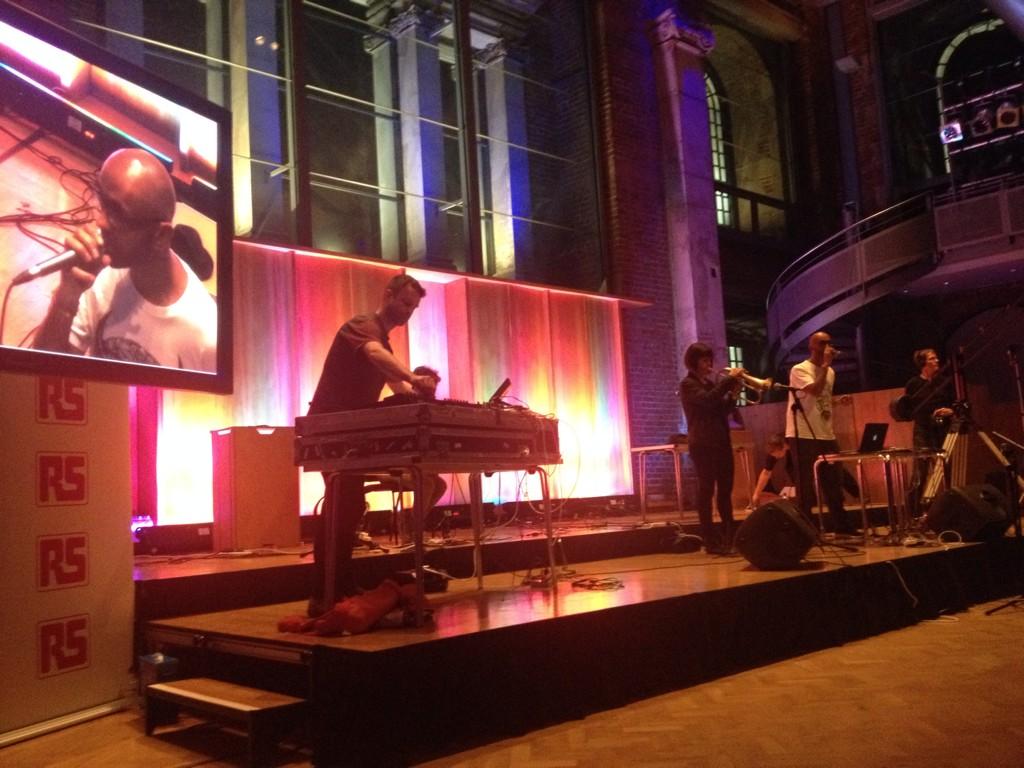 Technology is an amazing thing.
A two-edged sword, sometimes – but an amazing thing.
And music technology is no exception. As proved by any one of the following paragraphs:
Right now I'm typing this on a laptop at the kitchen table while listening to The Brainwave Quartet via an instant replay of the live internet video streams from Music Tech Fest in London, earlier today.
You can hear it too, just click this link and enjoy. (If you don't know what Music Tech Fest is yet, or why you're going to want to be there at the next one, click here.)
The Brainwave Quartet is exactly what it sounds like – a string quartet playing a composition whose content is determined live by the brainwaves of four people sitting nearby – or by the brainwaves generated by their choices, at least.
Earlier today, RS Components broadcast this little video to over 20,000 people via their Twitter feed:




It was filmed minutes earlier, showing my sons experimenting with the awesome "circuit bent" Talking Computer toy RS sent me as part of my invitation to appear at Music Tech Fest.
Yesterday, after demonstrating my Perception plugin to the audience (click here to see it) I retired to the bar and had some really interesting conversations. When I came back upstairs, I discovered Hugh Jones demonstrating an electronic (hacked) concertina followed by the inspirational Adam John Williams and Jason Singh improvising live. Both performed using only their voices, manipulated by "musical gloves" that Adam has been hacking together using RS Components. See for yourself:



RS Components are one of the major sponsors of Music Tech Fest, and as well as enabling Adam to create his amazing gloves, they're simultaneously running a 24-hour "hack camp" next door – full of people building similar devices and programming similar software to make new music tech innovations. There's even a camp for kids, and based on the enthusiasm of mine for the Talking Computer "instrument", I'll be ordering a Raspberry Pi for them on monday in case they want to go next year…
Pretty much a super early christmas for hackers #RSHacks #MTFLondon pic.twitter.com/QHOm2Utogl

— Thomas Flynn (@nebulousflynn) September 6, 2014

Back in the festival, while I was downstairs having those interesting conversations and eating my sandwich, I missed presentations about music posters that play music when you touch them, music apps that improve your health, and the video section of Andrew Dubber's presentation failing to play back properly. (Well, I said tech can be a double-edged sword !) Amongst many other things.
And all the time it was being streamed live to the internet, and I'm catching up on what I missed via replays today.
This evening I watched an astounding improvised performance by Tim Exile, Leafcutter John, Yazz Ahmed and Jason Singh on my iPod – it beat the hell out of X Factor, you'll be unsurprised to hear ! (Starts @ 8:09:00)



And yes, that clip really is more than eight hours into Day 2's stream – which means there's a massive amount of amazing stuff to watch before then, too ! Day 3 was all about collaborations and composition – I've added some of my highlights at the end of this post.
If you were there – I'm jealous. Even if not, I hope that after reading this post you are too, and will want to be there for the next one. (By the way if scrolling through live streams isn't your thing, fear not – edited highlights are on the Music Tech Fest YouTube channel now.)
Technology is an amazing thing.
Music technology is no exception.
Because of the collaborations, experiments, accidents and innovations it can prompt and enable.
Music Tech Fest proves this – and there's only one edge to that sword.


Update – I kept tabs on Day 3 via the excellent live streams – you can see all of them archived here – and it was every bit as fascinating and extraordinary as the first two days !
There were more great talks and performances – some personal favourites from what I've seen so far include Dr Rebecca Fiebrink, demonstrating The Wekinator – under-development (@ 1:08:50) learning-on-the fly gesture-recognition software – closely followed by Lossy, with visuals by Strangers Are People Too (@ 1:27:20) and later the excellent Shlomo @ 1:53:05.
Seeing what people had managed to achieve at the 24-hour RS hacking session was especially impressive, for example this augmented live performance system which enables people to interact with performances onstage simply by touching an Android phone to a "magic lamp" on the stage (@ 7:14:25) – or any one of the kid's hacks – after only 3 hours work, mostly with no previous experience ! (3:26:00)
I'm still sifting through everything, and I think the best way I can sum it up is with a tweet I posted on Saturday night.


Going out into the real world for a bit – but I just want to say: presenting @ #MTFLondon & then following it online = 100% INSPIRATIONAL

— Ian Shepherd (@ianshepherd) September 7, 2014

Music Tech Fest. Make sure you're at the next one !